Happy day! It's Thursday which is quickly becoming one of my favorite days of the week! The day I put the spotlight on another woman owned business! Have I mentioned before that one of the things I enjoy most about having my own business are the connections I have made with other women in business? If not, then I'll tell you now, because it's true, one of the things I love the most about having my own business is the connection I have made with other women business owners! It continually amazes me the immense talent I come across on a daily basis. Not to mention the great enthusiasm these women have for their businesses. Their passion is contagious. It affirms that no matter what walk of life you come from, anything is possible. If you put your mind to it, you can be marvelous.
Speaking of marvelous... I think you'll agree that this week's spotlight is simply, pretty darn marvelous! It's Amy McGrath from the super cute Tiny Giraffe Shop!! This is a MUST SEE shop that sells classic wooden blocks for baby. I just adore the chic and modern, yet vintage, look to them! A sweet addition to baby's nursery, Tiny Giraffe wooden blocks would be perfect on a decorative shelf. I also love that the blocks are eco-friendly and non-toxic so when baby is old enough they have a great toy to play and grow with. You can also purchase a drawstring bag hand stamped with the child's first name. An excellent gift for a mom-to-be!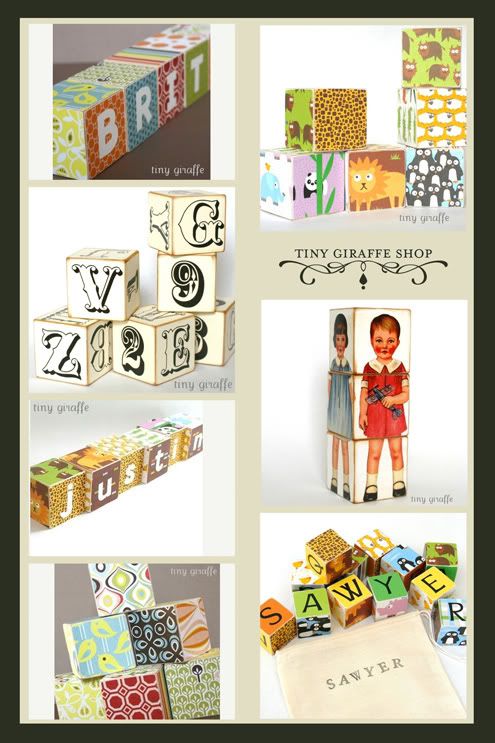 I'm right... right?? Simply, pretty darn marvelous! Amy happily shared a little about the inspiration behind
Tiny Giraffe Shop
and life as a MOMpreneur. Amy has also offered a sweet deal... save 10% on orders through March 3, 2011 when you use the checkout code UPTOWN10. Thank you so much for that offer Amy!
The FIVE... with Amy McGrath from Tiny Giraffe Shop
Q: What was the inspiration for starting your business?
Tiny giraffe is the perfect balance between my passion for creating and love of business. After graduating with a degree in economics, I worked in the music industry and loved every minute of it. I was fascinated and excited by the music biz because it's where the arts and business come together in a remarkable way. With the birth of my first daughter, I made the decision to give up working in music to start my most exciting job yet: raising my children. I created tiny giraffe as an outlet for my creative and entrepreneurial energy.
Q: What were some of the challenges that you have faced?
The biggest challange for me has been the very same challange all of us moms face: taking care of our family, ourselves, and a business is one big juggling act. Finding balance and maintaining that balance is something I'm always trying to improve upon.
Q: How do you find balance between "real life" and being a super female entrepreneur and/or MOMpreneur?
I try to schedule in time where I know I can get a few hours of work in. I do bits and pieces throughout the day when I can, but the bulk of creating is done at night or on the weekends. As long as I am able to plan ahead and schedule time to work, I find that I better able to balance family life and tiny giraffe.
Q: What advice would you give to other female entrepreneurs just starting out?
When I first started out, I didn't realize the impact that social media would have on my business. tiny giraffe has been active on facebook and twitter for only the past eight months, and I am astonished by how many opportunities and actual sales are generated from it!
Q: What is up & coming for your business?
I'm working on developing the Paper Doll blocks line, as well as a new alphabet set concept for this coming fall. There's some exciting press coming out this spring, so tiny giraffe should be super busy in the coming months!
The TEN... with Amy McGrath from Tiny Giraffe Shop
3. I wish I knew how to sew
4. Nutella is my favorite food
5. I played softball in college
6. I'm addicted to the Real Housewives shows (NY, NJ, BH)
7. I have two little girls who I love to put in the same outfit, but in different colors
8. Once went on the road with They Might Be Giants
10. Favorite item to buy on Etsy: holiday & birthday tees for my little girls!